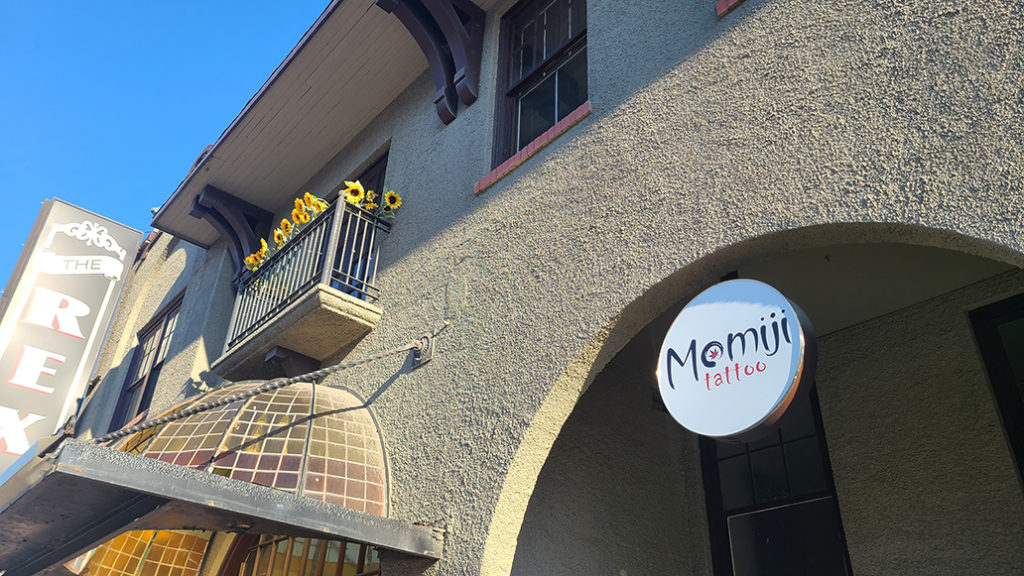 Location
Momiji Tattoo is located in Kamloops' downtown at 409 Seymour St. Unit 201 in the Rex Theater building. On the facade with the sunflowers on one of the balconies, look for the door with Momiji Tattoo's logo on the glass, climb to the second floor where you'll glimpse more sunflowers and there it is! There's plenty of bus stops around the premises and available parking spaces on the streets surrounding the building (St Paul lot for daily parking).
History of the building
Year of inauguration: 1927
Architect: Ernest T. Brown (1876-1950)
Builder: William Henry Johnston (1864-1931)
The Kamloops Lodge #44 of the Benevolent and Protective Order of the Elks began in 1920 with a mandate to provide community service and leadership. It contributed large sums of money to help the community by upgrading Riverside Park, sponsoring music groups, and assisting the sick and elderly. This aid extended beyond Provincial boarders during the Great Depression by providing car loads of fruit and vegetables to the drought-stricken province of Saskatchewan.
To accommodate all its activities the Elks built a new Lodge in 1927 with club quarters. billiard room, lounge, banquet hall, auditorium, and seven residential suites on the top floor. It was the first building designed in the Spanish-American style of architecture and started a trend in the city. The auditorium had the second largest stage in the province and held an audience of 1,000. It hosted travelling shows, vaudeville, concerts, musicals and dances. It was the " community place." In 1930 the auditorium became the Rex Theatre and brought the first "talkies" to Kamloops. The latest New York equipment and design made it a popular venue.
Today the building continues on with that great tradition of encouraging Arts and Culture all the while fostering and supporting community, government and charity. It also focused on organizing social activities like dances, concerts, and vaudeville acts.
What to see around Kamloops
If you are coming from abroad to get tattooed, you might as well enjoy the surroundings which offers various landscapes that range from the Rockies to the Pacific Ocean, from deserts to ski resorts. Kamloops in itself is rich in astonishing view points and is a labyrinth of trails for nature lovers, thus the reason why I decided to establish here. But if you have the time for a little road trip, here are my favorite spots so far and the average time it takes to reach it from Kamloops:
Close to Kamloops and the Okanagan Valley:
Sun Peaks (45 min) / Lillooet (2h) / Marble Canyon Provincial Park (1h30) / Wells Gray Provincial Park *Helmcken Falls (1h30) / Kelowna (2h) / Osoyoos (3h)
The Rockies:
Mont Robson (4h) / Glacier National Park (3h) / Kootenay National Park (5h30) / Yoho National Park (5h) / Jasper (5h) *Athabasca Falls and Valley of five lakes / Banff (6h) *Moraine Lake and Louise Lake
The Coast:
Vancouver (4h) / Seattle (5h) / Whistler (4h) *Cheakamus Lake
Vancouver Island:
Salt Spring Island (6h) / Victoria (6h30) / Nanaimo (6h) / Port Renfrew (8h) / Ganges (5h30) / Tofino (9h) / East Sooke (7h) *Avatar Grove and Alberni-Clayoquot regional district